Shopware Enterprise Hosting
Metaways is a specialist for hosting and application and official hosting partner of Shopware. We are your experts when it comes to the professional operation of platform and services for sophisticated B2C and B2B commerce with Shopware Enterprise.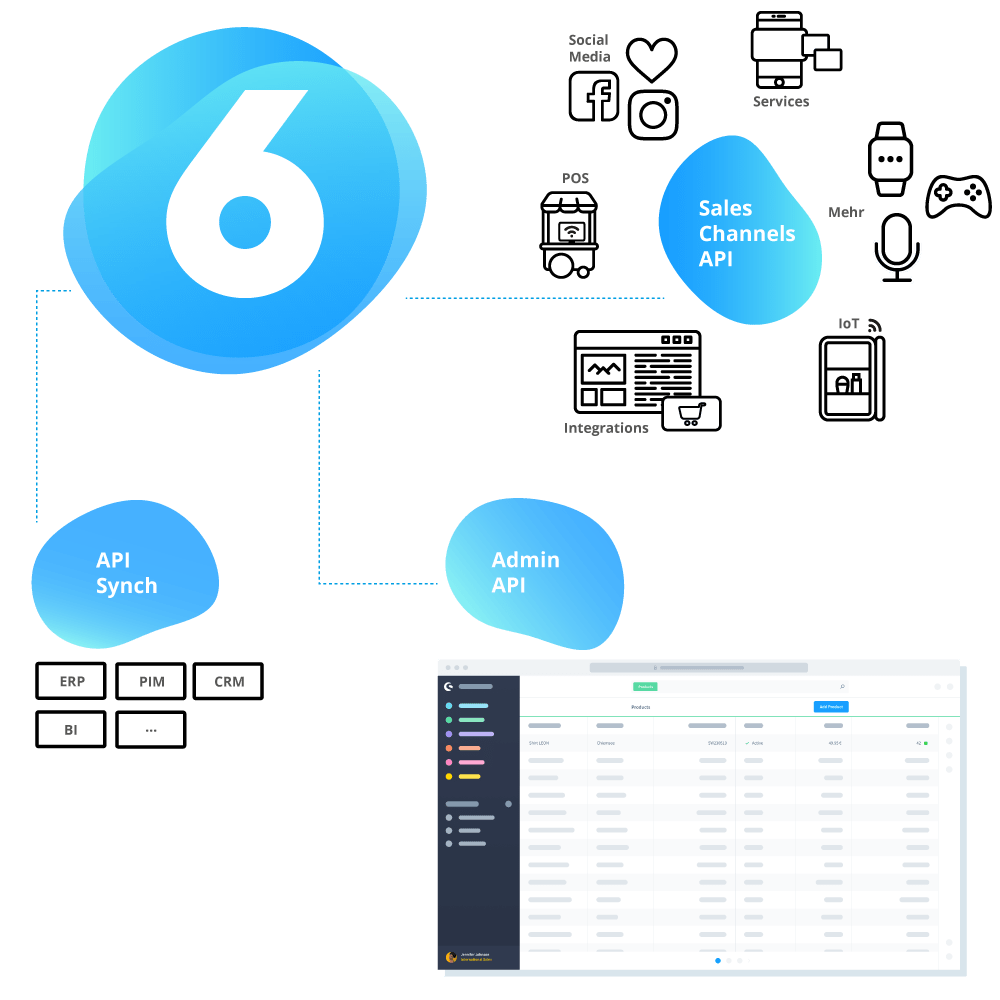 With Shopware 6, Shopware is consistently focusing on the API-first approach, so that all store functionalities can also be controlled via Rest APIs. In line with headless commerce, the frontend and backend are technically separate from each other, so both can be operated on different nodes and scaled in a load-optimized manner.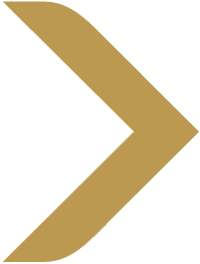 Shopware 6 relies on established state-of-the-art technologies with Symfony and Vue.js. With the Data Abstraction Layer (DAL), Shopware provides its own layer between the database storage and the application for taking over the read, write, search and aggregation processes. This abstraction layer, along with the use of our Elasticsearch and Redis clusters, optimizes the scalability and performance of your Shopware 6 installation.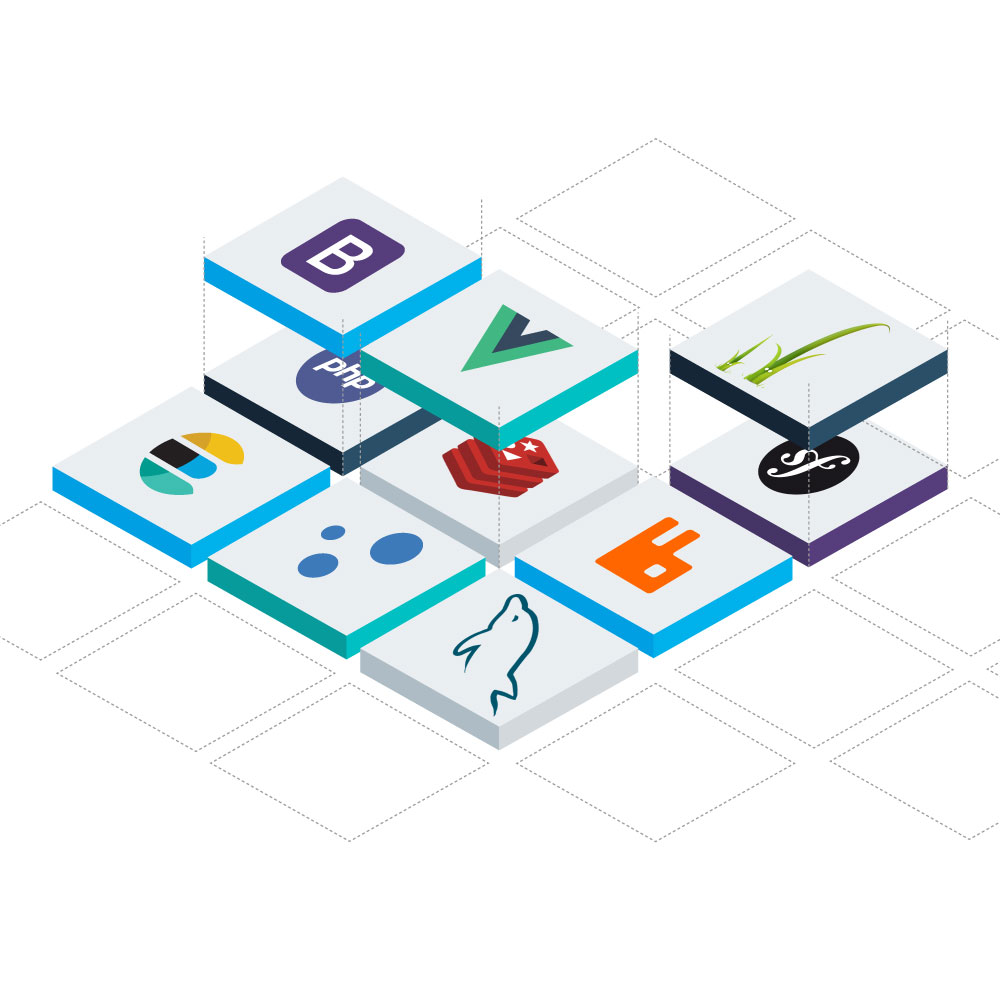 Custom-built Platform as a Service (PaaS). We have the right platform solution for every project. Depending on the requirements and objectives, we operate our hosting platforms for Shopware in our own infrastructure or use the existing offering of a public cloud provider such as Amazon Web Services (AWS). We support the use and support of different platform concepts in operation – from classic virtualization to hybrid models with containers to pod clusters with Kubernetes. Your platform remains flexible at all times and can be expanded with additional services.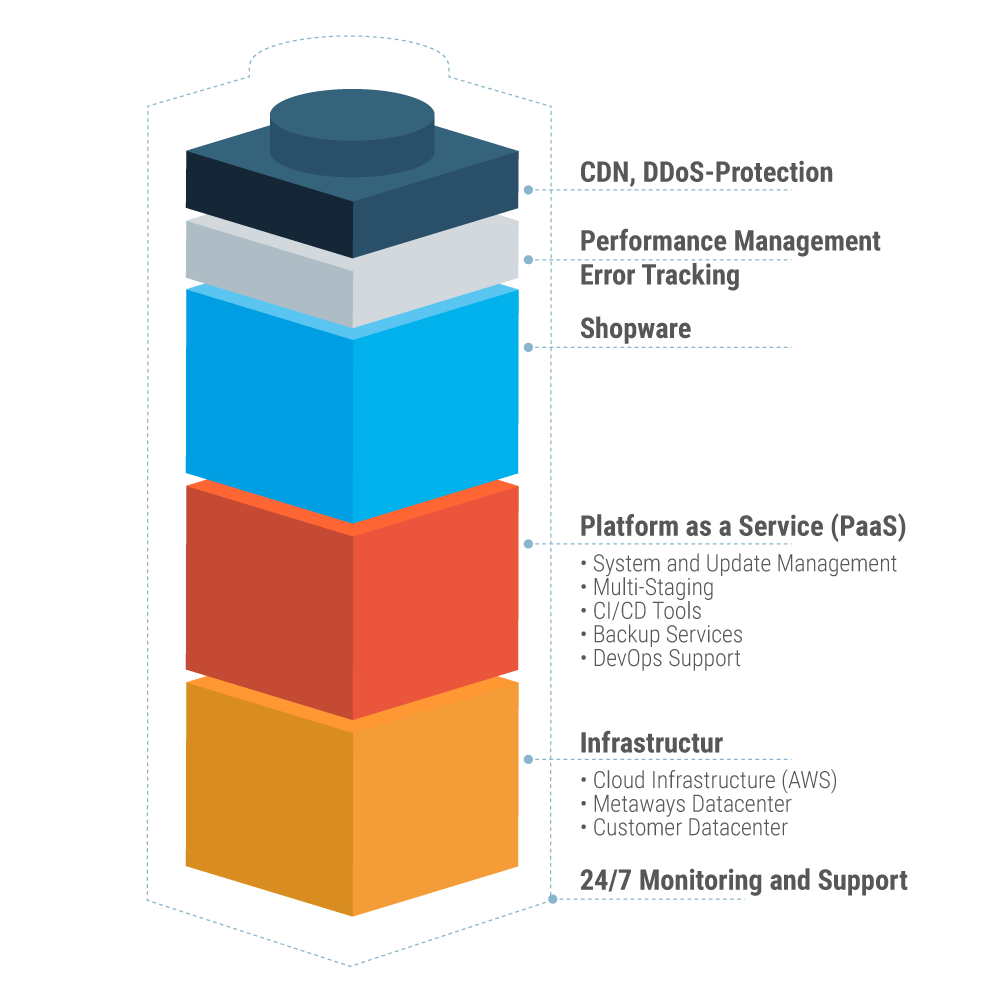 Advantages.
A few of many.
+ High flexibility in the choice of the preferred infrastructure and the design of the preferred platform concept
+ 2x ISO 27001-certified data centers at the Hamburg site for scalable operation outside the public cloud
+ Proven Shopware expertise through certified developers and various enterprise-level operational projects
+ Personal contacts in technical platform support and service management
+ German and English support
+ Hosting as core competence since 2001
+ Agreement on individual service levels

CORNELSEN VERLAG
Cornelsen Verlag is one of the leading providers of educational media in the German-speaking world. With a high level of didactic expertise, Cornelsen develops products for the classroom and personal learning – printed, digital and cross-media. The company stands for learning success and proven high quality – and has done so for over 75 years: In 1946, Franz Cornelsen founded the publishing house that has since had a significant impact on the German education landscape.

TOPSERV
Formed from the merger of four medium-sized family-owned companies, TOPSERV offers nationwide coverage for all aspects of care and hygiene and distinguishes itself with an expanded product portfolio. Through smart e-business solutions, innovative cleaning robotics and sustainable 360-degree service, customers benefit from optimized processes. TOPSERV offers nationwide consulting and demonstrations that make customers better.

ALESSANDRO INTERNATIONAL
Under the feathers of the peacock, the alessandro family has been united since 1989 and tells a success story of hand and nail products with first-class quality, revolutionary innovations, a sense for the latest trends and an international style.
Through the development of professional, market-driven textures and a tailor-made service, alessandro is not only the first partner for nail professionals, but has also developed into a experienceable brand for everyone, which grows in dialogue with its customers and thus also inspires new generations to enjoy beautiful hands, nails and feet.

BIJOU BRIGITTE
Incomparable classic or current trend: This and much more can be found in the online jewelry store at the fashion jewelry manufacturer Bijou Brigitte. Bijou Brigitte is the expert when it comes to multifaceted pieces of jewelry for every occasion and every age.

GOLFINO
GOLFINO's formula for success has been first-class design paired with top-notch functionality. Founded in 1986, GOLFINO started out as a knitting specialist and today is one of the leading brands for golf wear as well as a provider of high-quality outfits in the sports and leisurewear sector.

DOROTHEE SCHUMACHER
Dorothee Schumacher creates exclusive designer fashion for women. The name Dorothee Schumacher stands for femininely playful designs that challenge the strict business fashion. The label includes women's outerwear, accessories and shoes, which are also presented in her own online store.

ERWIN MÜLLER
The Erwin Müller Group is THE multi-channel player in the B2B trade of the hotel and restaurant industry. The innovative, future-oriented business model ensures a competitive edge on an international level. The brands VEGA, ERWIN M., JOBELINE, Pulsiva and Lusini are market leaders in Europe.

AXRO
AXRO is an international distributor of original consumables – with the emphasis on "original". As a Hanseatic company, AXRO believes in reliability, cosmopolitanism, commercial daring, fairness, partnership and tradition.

WEMPE
Dedicated to quality by tradition: Founded in 1878 as a small watchmaker's workshop, Wempe is now a reliable partner for the most important brands in the luxury industry, and produces high-quality watches and valuable jewelry in its own manufactories. Above all, however, Wempe is a family business that creates and preserves values.

SCHÄR TOOLS
The core business of Schär Tools is the trade with high-quality power tools, equipment, machines and industrial supplies. Thanks to its broad and deep product range, sound knowledge of machines, equipment and their possible applications, Schär Tools is a strong partner for trade and industry. Private customers also benefit from this knowledge to the fullest.
Address
Pickhuben 2
20457 Hamburg
Germany
Telephone
+49 40 31 70 31-0