Web Protection With The Web Security Suite
On Black Friday and Cyber Monday, not only online stores are very active, but hackers also try to secure a piece of the pie in an illegal way. In 2021, for example, companies were hit with 200 percent more DDoS attacks during Cyber Weekend than in the previous year. The terabit limit in malicious data traffic has now been exceeded. In addition, security service providers registered targeted attacks on e-commerce providers, payment service providers and logistics companies in order to cause the greatest possible damage while using comparatively few resources
to attack applications and online services on the days that generally already recorded load peaks due to the campaigns.
To provide our customers with additional protection, we are working with Link11, one of Europe's leading cloud security providers. Not only do we support you with setup and maintenance, the Web Security Suite packages are available in this constellation exclusively through trusted partners such as Metaways.
Web DDoS Protection is, so to speak, the basic module required for all Web Security Suite solutions. The module is based on the patented, fully cloud-based Protection Engine, which provides DDoS protection for any type of web-based applications, services and APIs. The Protection Engine uses artificial intelligence and machine learning algorithms for fully automated attack detection to protect against all types of known and unknown DDoS attacks. As a result, Link11 offers the fastest mitigation (TTM) available on the market, according to unanimous analyst opinion (Gartner, Frost & Sullivan and others), and enables a very low false positive rate.
The 11 globally distributed scrubbing centers ensure minimal latency and thus no noticeable performance degradation for users. The Web DDoS Protection analyzes standard user behavior and uses the obtained data base for its own scoring (baselining). Harmful requests for attack mitigation are reported back to the protection engine.
The use of a Zero Touch Web Application Firewall (WAF), load balancing and TLS offloading completes the overall solution to provide 360° security on layer 4-7.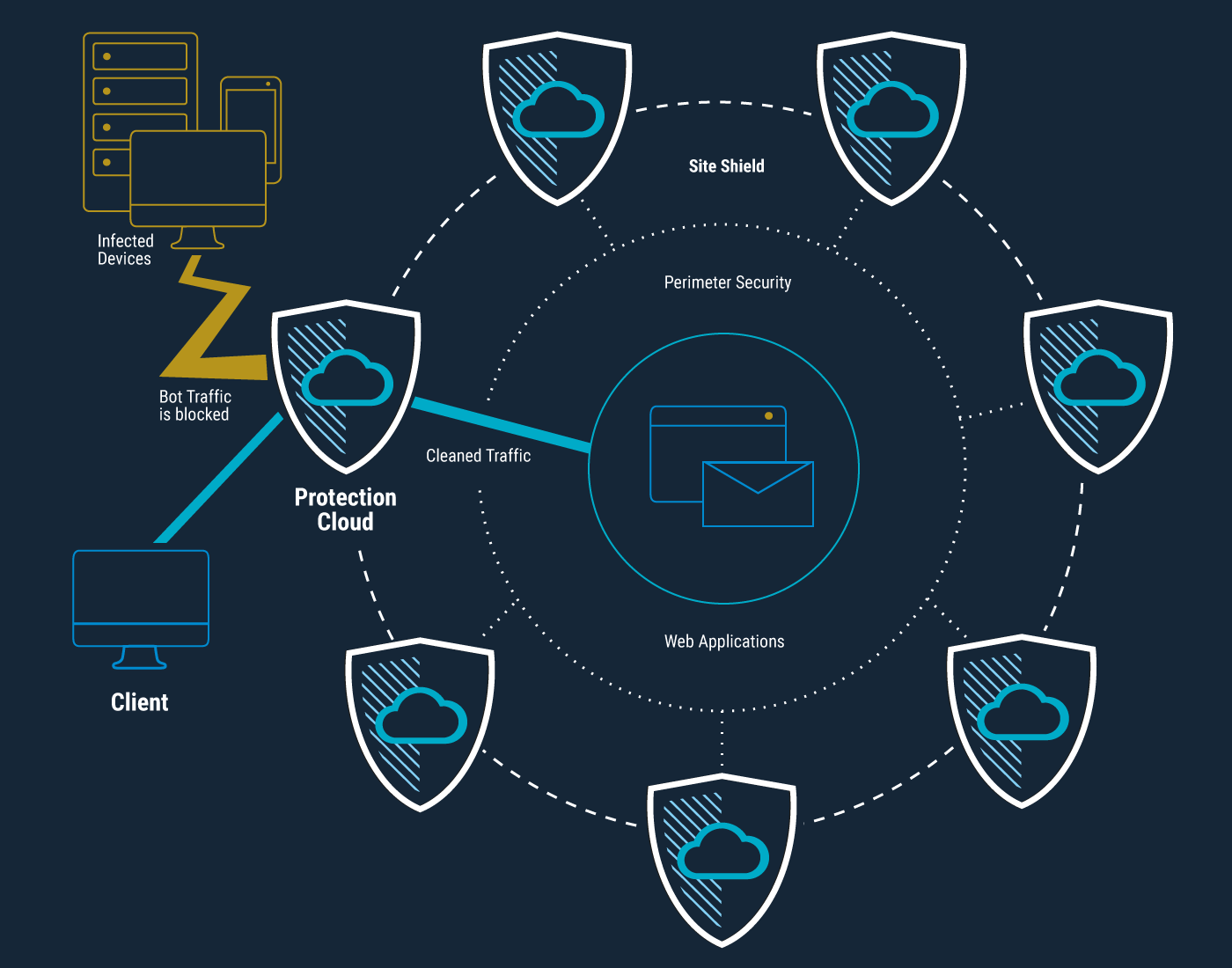 Web Application Firewall (WAF)
The Link11 Zero Touch Web Application Firewall (WAF) is part of the Cloud Security Platform, which is based on innovative, patented technology. With its fully cloudnative approach and use of artificial intelligence (AI), the solution provides fully automated protection for critical applications, APIs and services.
The solution detects malicious traffic in milliseconds and filters it out without disrupting the real user. It protects web applications and APIs against all common threats, including the Open Web Application Security Project's Top 10 (OWASP Top 10) list, SQL injections, cross site scripting, local and remote file inclusion, remote code execution and more. Business-critical web applications receive comprehensive protection against all common threats and forms of attack with a single solution. So you can focus on your core business.
Bots are automated tools that can be helpful in some cases (search engines, price comparison portals, etc.) but can also harm your business if used for malicious purposes such as web scraping. Today, a large part of a company's website traffic consists of bot traffic. In addition to the business impact, bot traffic can negatively affect website performance, which in turn leads to increasing upscaling costs for the affected internet platforms.
Link11's bot mitigation service uses patented AI and machine learning algorithms to distinguish between good and bad bots in real time. Known bad bots are blocked immediately, while unknown bots are identified and blocked within five seconds on average. This is crucial as new bots are constantly being developed to circumvent controls.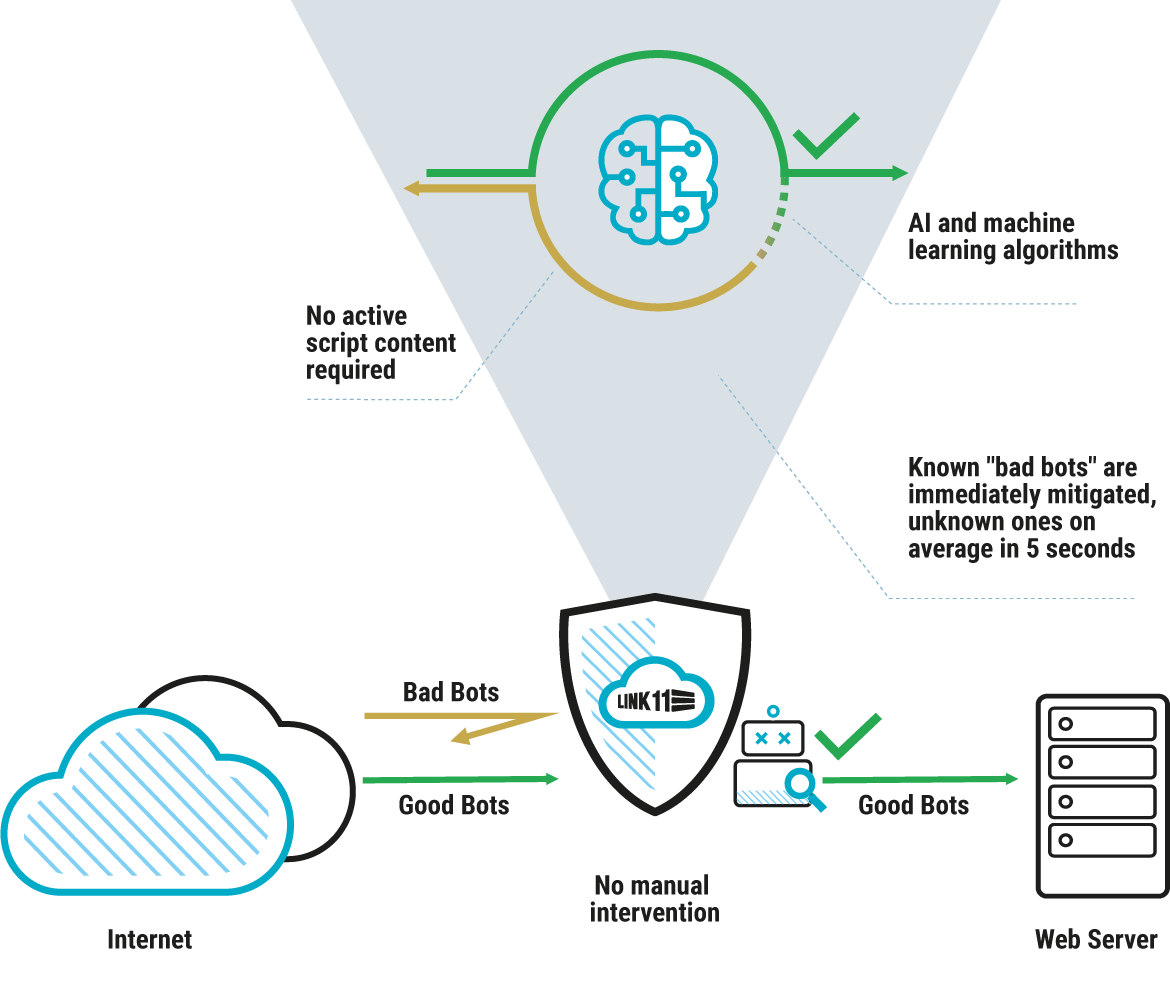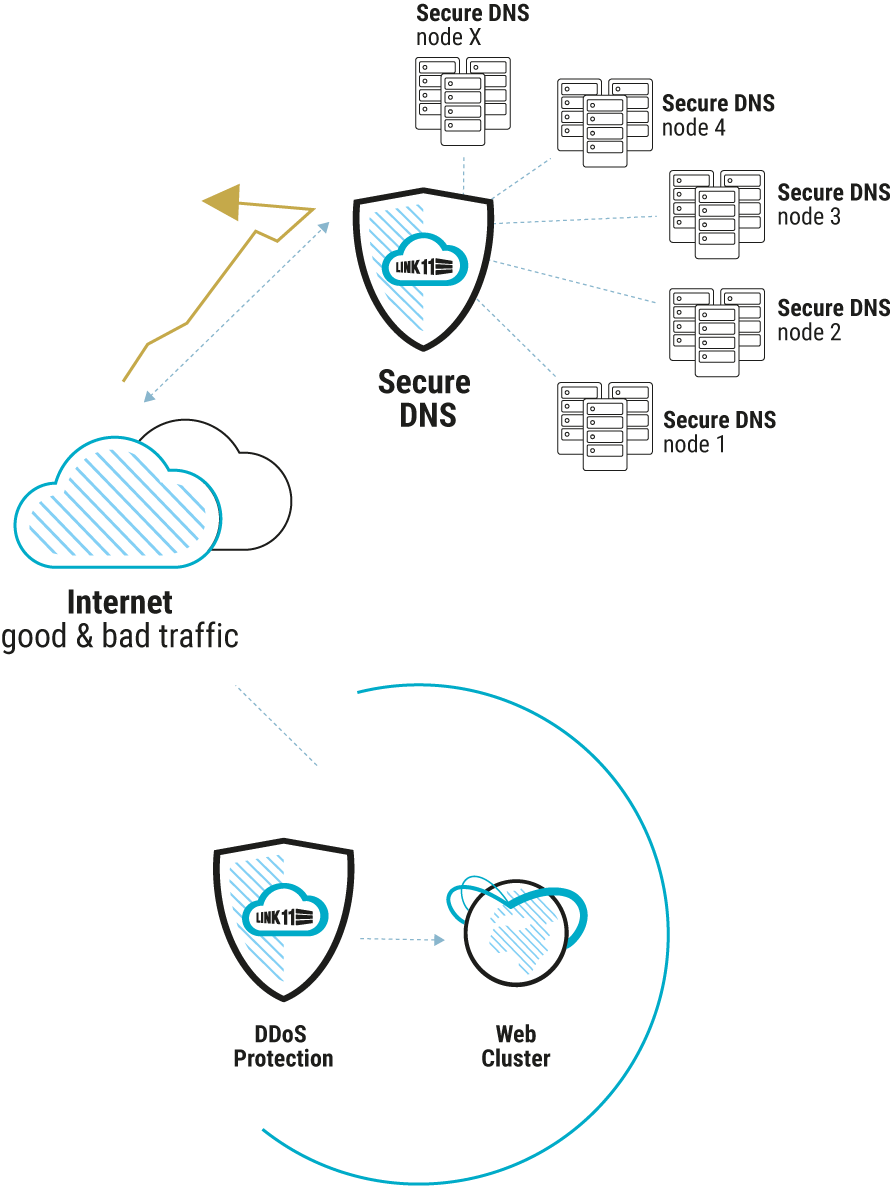 Customers, employees and partners – they all expect instant, secure and reliable access to your website and applications, no matter where they are or what device they are using. The Domain Name System (DNS) is responsible for translating human-readable domain names into numeric IP addresses. This critical process ensures a faster web experience for visitors to your website and users of your applications.
Link11's Domain Name Resolution Service Secure DNS resolves your DNS request over the global network consisting of redundant servers. The server infrastructure of Secure DNS is more reliable as it includes many locations around the world.
Multiple servers are deployed at each node, connected to the Internet via diverse Tier 1 carriers. DNS requests are always answered by the closest server and users' content is reached faster than ever before.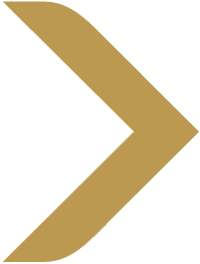 +
Web protection from the leading European provider
+
Hosting and web protection from a single source
+
Modular expandable Web Security Suite
+
Metaways Security Management
+
Security made in Germany

Curious?
+49 40 31 70 31 – 65
Address
Pickhuben 2
20457 Hamburg
Germany
Telephone
+49 40 31 70 31-0